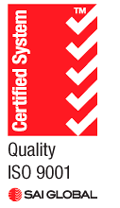 TMC is now internationally recognised to ISO 9001:2015 for our quality management system, demonstrating our ongoing commitment to our clients and motivation to continual improvement.
What does it mean to TMC?
TMC's ongoing commitment to delivering high quality solutions to our clients was recently strengthened by ISO 9001:2015 certification for our Quality Management System. This certification provides greater confidence to our clients who demand the best from their outsourced business support partner.
What does it mean for our clients?
Put simply, improved service delivery and a greater customer experience.
We understand that sustained success is achieved when we attract and retain the confidence of our clients.
Our Quality Management System (QMS) has the primary focus of quality management to meet customer requirements and to strive to exceed customer expectations.
Our ISO 9001:2015 certification reinforces with our clients that we have the right people and systems demonstrating our brand "Making Better Business Sense", whilst also better validating our credentials to potential clients.
What were the steps TMC needed to take?
TMC undertook a comprehensive review of our management system, including customer focus, leadership, engagement of people, process approach, improvement, evidence-based decision making and relationship management. This enabled us to strengthen the policies and procedures that define, and better identify ways in which we can improve and how we deliver solutions to our clients.
What was the process like?
The whole process provided a great opportunity, using new tools, to look afresh at the way we work and, whilst fairly intense, highlighted further improvements for us to focus on.
ISO 9001:2015 Quality Management principles reinforced for us that sustained success is achieved when we attract and retain the confidence of our clients and other interested parties, that each customer interaction allows us to create value for our client, and that understanding the current and future needs of our clients and other stakeholder groups contributes immensely to our ongoing success.
Advice for businesses going through this process.
Sometimes a business is so focused on business as usual, it is difficult to see where improvements lie. "Stepping off the dance floor and onto the balcony", as the saying goes, can reap rewards, both from a leadership and staff engagement perspective and, more importantly, the improved experience provided to your customers. Of course, an internationally recognised certification confirming what you perhaps sensed all along, is a great opportunity for attracting new clients too!
Want to learn more – contact us!